Supercharged Websites for Contractors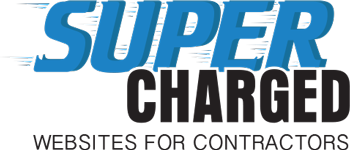 What is the Supercharged Program?
In short, when you sign up for our supercharged program, we generate leads for you through your website – effectively turning it into a Lead Generation Machine!
These leads will be exclusive, as they come directly through your website. They will also come directly from people who have seen your website, who are educated about you and your services, and who are ready to sign up for an estimate with your company.
Any work we do on your website and online presence, including search engine optimization (SEO), pay-per-click advertising (PPC), social media, and site conversion optimization, is all 100% guaranteed to bring you leads – or you don't pay!
A well-marketed contractor's leads should be 33% referrals, 33% internet, and 33% from other advertising. A poorly marketed company could get 50-80% of its leads from the web. If your numbers don't look like this, you're missing out.
Some of the things we'll do:
Plug site into our powerful Content Management System built specifically for contractors.
Improve site conversion.
Manage your PPC (paid ads on Google, Yahoo, Bing).
Optimize for search engines (SEO).
Manage email campaigns.
Help you generate 5-star customer reviews.

What Our Clients Think Of Us
My biggest concern was thinking this is just another scam that's probably not going to work and is this just going to be a big waste of my time. My concerns are put to shame and it has certainly not been a waste of my time. Not only is my work to find good leads gotten a lot easier but I've also gotten a great looking AND informative website. I love it.
-Klaus Larsen, Klaus Larsen Roofing
The net result for us is simply this. We have increased our rankings, increased the amount of traffic on the site, increased the amount of leads we receive, and ultimately we have increased the amount of volume sold thru the web based leads.
-Dave Grant, All Good Home Improvements

What do our contractor websites cost?
We use a performance-based model and only charge for the guaranteed results of our web services. In the contractor world, this is the sales lead.
The cost-per-lead will vary based on lead type (roofing, painting, plumbing, siding, mold remediation, etc.) and geographical location (some markets are more competitive than others).
You only pay for the leads we generate exclusively for you through your own website – and you don't pay for leads that you generate (more on this shortly). No more spending money on an online marketing strategy that isn't working.
No setup fees
No hidden fees
No PPC cost
No monthly retainer
No cost to make changes to your site (we actually encourage it!).
You only pay for the leads we generate exclusively for you through your own website – and you don't pay for leads that you generate (more on this shortly).
All leads that come through your website go directly to you; including web forms via text and email, and phone calls that ring directly in your office.
How do we know where the leads are coming from?
Our system can determine where leads originate. This gives us the ability to charge you only for leads that we generate and not for leads that you generate from your own advertising and market awareness. A big benefit is that we'll continually work on your site to improve conversion rates, so even in the case where you direct traffic from an ad to your site, you will reap the benefit of converting more of these people into leads, without paying for it.
When you buy leads from other websites, you are strengthening those sites and building their brands. You become reliant on them. When you build your site, you exclude the competition and build your own brand.
We give you the credit where credit is due

We charge for the leads that we generate from our online marketing efforts.
We don't charge for leads that come from your own marketing and advertising.
Example 1: Let's say someone sees your decaled truck, writes down your web address, and comes directly to your site. Because we can see this direct traffic and track it through to the lead, you wouldn't pay for it.
Example 2: Let's say your company is called ABC Roofing and someone goes to a search engine and searches for "ABC Roofers." Again, as we can track this search term through to the lead (for both SEO and PPC), we wouldn't charge you for this either.
What you DON'T pay for:
Direct traffic that you generate: If someone knows your company and types your domain name into the address bar in their browser, you don't pay for this. For example: If someone types ABCContractor.com into the address bar and comes directly to your site, this is a lead you generated through promoting your Web address in advertising, on the side of your truck, etc., and you will not be charged for this.
Brand awareness: If someone goes to a search engine and searches for ABC Contractor (or a close variation, such as ABC Contracting Company or ABC General Contractor), this is brand awareness – we would consider anything ABC your brand in this case – that you have created in your market and you will not be charged for this.
Leads generated by other online marketing efforts: If you are paying for links on other sites such as yellowpages.com, superpages.com, etc., you will not be charged for leads that originate from these sites (you will just need to tell us where you have links to your site and we can filter out this traffic).
What you PAY for:
Leads we generate from organic/natural search results. For example, if someone searches for "roofing contractor boston" and clicks through to your website, this is an organic search.
Leads we generate from pay-per-click (PPC) advertising.
Leads we generate from any other online advertising or marketing that sends traffic to your site.
Overall, in our Supercharged Website Program you should fall within a 5-10% advertising budget. We've been doing this since 2005 with hundreds of contractors and their numbers are generally based on two factors:
How good they are at setting leads to appointments.
How good they are at sales.
We look at our contractor website program as a partnership, and go into this looking forward to a long relationship. Fill out our contact form for a free contractor website consultation or CALL US NOW with questions or to get started with our Supercharged Website!
---
Got a question?
There's a good chance we've heard it before. Click to find answers to commonly asked questions about our program.